Welcome to buy the genuine, Natural Jacaranda Oro Gold Quartzite at HRST Jacaranda Stone, who is known for being a leading producer and supplier of China. Natural jacaranda quartzite is a natural rock slab consisting of red, dark brown, and partially black textures.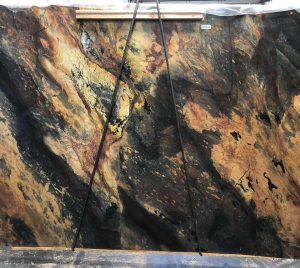 Most of the slabs of natural jacaranda quartzite  may measure over 3,000x1800mm. This material is commonly used for kitchen counters and island, bathroom tops, wall covers, etc. Not only do we sell larger slabs, we also cut them as per your requirements. Like most natural stones, quartzite needs sealing to keep it from staining, and is generally more expensive than conventional granite materials. Quartzite is a durable, compact natural stone that comes in a range of natural colors, making it appropriate for many home uses.
From exotic colors to mainstream colors, we have your granite or marble slabs in stock and ready for you. Jacaranda is not the only exotic stone offered by HRST Marble & Granite. At HRST Marble & Granite. HRST Marble & Granite sources many unique exotic stones, and has a stock of over 400 colors in quartz, quartzite, granite, soapstone, marble, and our newly launched line HRST Quartz. One of our newer, most exotic quartzites is Jacaranda, which is mined and shipped to HRST Marble & Granite via our relationship with a sustainable Brazilian mine called Gramazini. Sustainable Brazilian mine called Gramazini.
See natural jacaranda quartzite along with our other exotic stones at our showroom, or give us a call at (+86) 15159812561. Known for high-quality, strong, good decorative value, this rock is worth your confidence. Since this slab of stone is so heavy, the shipping costs are going to be really expensive via air shipment.